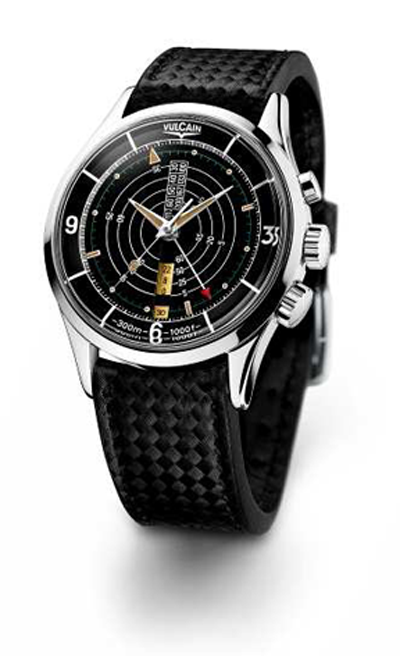 Celebrating 50 years of nautical heritage, Vulcain unveils its new Vulcain Nautical Heritage Limited Edition watch. Water resistant to 300 meters (900+ feet), the watch houses the legendary Cricket V-10 alarm caliber, which is fully audible under water. What's more, it features an indication of the decompression stages—making this a really cool watch for use and to look at.
Vulcain presented one of its first diver's watches in 1961, the Nautical, whose strike could be heard under water thanks to the triple caseback that served as a resonance chamber and warned divers that it was time to return to the surface. The re-edition of this watch is close to authentic and boasts the characteristics of the original divers' watch. The hand wound caliber is equipped with two barrels, one to supply the energy for timing and one to operate the alarm function that sound for a full 15 to 20 seconds.
The 42mm watch offers 42 hours of power reserve. The read-off of the depth indications and stop times for each decompression stage (of classic 9, 6, and 3 meter decompression phases) is created via two superimposed dials, a lower fixed dial and a top dial adjustable by a screw-lock crown at 4:00. The patented timepiece is built in a limited edition of 1961 pieces. This is a part of dive heritage that Cricket and Vulcain lovers will want to be a part of, especially at just about $6,200 retail.
Read more about watches from our timepiece editor Roberta Naas at atimelyperspective.com.